As you stroll past temples and through alleys of Varanasi, your eyes are filled with the colorful spirituality of weddings, funerals, and centuries-old architecture while your ears take in the sounds of Sanskrit mantras, Muslim calls to prayer, and bustling markets. Let us be your guide on your journey, and you will become a part of the energy and colorful spirituality in this holy and ancient city.
Sunrise Boat Tour
There is nothing like the sunrise over the Ganga River. Join us for an early morning boat tour on the river and witness the sights and sounds as the city wakes up. You will hear some of the fascinating history of the ghats and this ancient city. We will meet you at your hotel at 5:30am to begin this adventure, and return you to your hotel at 7:00am.
Duration: 1.5 hours
Rs. 500 per person
Rs. 700 for two people
Tour of Temples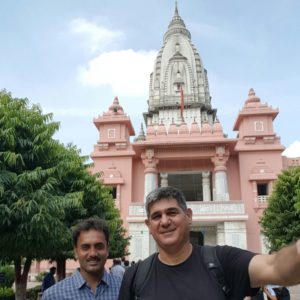 Temples are central to daily life in Varanasi. Visit three temples and learn of their meaning and significance. Experience the harmony of beauty and architecture that came to life under the direction of devoted followers of Shiva, Rama and Hanuman. Transportation and guide charges included. For this tour, we will pick you up at your hotel, and return you there at the conclusion.
Duration: 3.5-4.5 hours, depending on the size of the group
Rs. 1000 per person
Rs. 1800 for two people
Heritage Walking Tour
A first stroll through the narrow alleys next to the ghats can be confusing and bewildering. Walk the alleys with a guide and become oriented to their place in relation to the ghats and the Ganga. Learn the historical significance of the architecture in this, the oldest part of the city. Visit a cremation ghat and experience the ancient rituals that release a soul to liberation. We will meet you at your hotel to begin this tour, and drop you there at the end.
Duration: 1.5 hours
Rs. 1000 per person
Rs. 1800 for two people
Sunset Boat Tour and Ganga Ceremony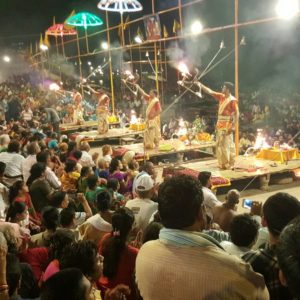 There is so much life along the Ganga in the evening. Board your boat and glide to Dashashwamedh Ghat to watch the beautiful evening ceremony. Music artfully accompanies Hindu priests who perform sacred rituals to honor Shiva. See the priests perform the intricate ritual and offering with oil lamps, hear the conch and chanted mantras and experience this unforgettable event. This tour begins and ends from your hotel.
Duration: 1.5 hours
Rs. 500 per person
Rs. 700 for two people
Tour Packages
These tours can be combined into packages to meet your preferences. Contact us for details and pricing.
Contact Us